We would like to thank all of our customers worldwide for your great support to KMTC.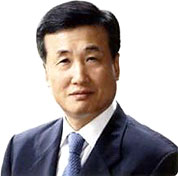 With your kind attention and continued support, KMTC achieved remarkable growth and development to become the best Intra-Asia shipping company even in the midst of shipping market conditions with full of uncertainties and difficulties. And we also became the new major liner in India/Middle East service.

We are now in the era where business environments and paradigms are expected to change drastically. People think over their future in times of 100 years of lifespan, and KMTC thinks over our future to make a 100-year company. In thinking about big flow of social change and direction of future, we wish to share KMTC's future with you.

First is digital innovation that is represented by artificial intelligence (A.I).
In the era of Industry 4.0 where all information is inter-connected, KMTC will become the No.1 IT adaptive shipping country in the market through enhanced IT capabilities and competitiveness. Furthermore, to forecast uncertain future and act proactively, KMTC will set up our own IT system (ICC 3.0) and achieve global open network innovation so as to provide the best service for customers' various needs.

Second, we will acquire cost-competitiveness and find growth momentum from the crisis.
The biggest threat and opportunity in the history of shipping industry are approaching simultaneously. Many shipping companies are concerned over their survivals. Having lower cost structure through effective systems will determine shipping company's survival and future. In addition to our competitiveness in sales, KMTC will also standardize cost competitiveness and digitalize working procedures globally for better customer satisfaction.

Third is the internalization of successful company's DNA.
Korea's business environment is starting to closely resemble the unfavorable long-term depression, systematic low growth, low interest rate and low employments of †Japan's lost two decades'. Yet, KMTC will continuously work on finding success DNA and systems to go through such hardships and become a great 100 year company.

We will take 67 years of time we shared with our customers into our hearts and won't settle for the past accomplishments. With 'Think Hard' and 'Work Hard' spirit, we aim to become the No.1 intra-Asia shipping company in 2030. KMTC will provide the best service for all areas of intra-Asia like seamless web, and all KMTC's container vessels will continue to sail with safety and passion with your valuable cargoes.

KMTC thinks of 5 years ahead and beyond.
All employees of KMTC will always keep KMTC Way, our code of conduct, in mind and execute them to develop and advance with our valuable customers towards Global KMTC, a great 100-year company. We would highly appreciate your support and wish full of happiness and good health in you and your family.

Thank you.